If you're planning an island getaway, Havana, Cuba should be on the top of your list. From its rich culture, breathtaking landscape, and beautiful people – there is so much to love about Havana.
As one of Mocha Travel's best family vacation destinations, we've pulled together the top 5 things to do in Havana with kids. Add one of these activities to your list to make a memorable family vacation filled with unforgettable experiences.
1. Tour the Viñales Valley National Monument
Just a little over 2 hours from Havana, the Viñales Valley offers breathtaking views of beautiful landscape. Viñales is a great day trip for the kids to immerse themselves in nature.
Take a nature walk through the Viñales Valley to enjoy the magnificent views of their rounded mountain tops. They create a one-of-a-kind scenic landscape with uniquely developed hills, steep sides, and flat tops. Going on a nature tour or horseback riding are fun and educational activities for the entire family.
2. Take a Cultural Tour
With Cuba being closed off to American tourists for many years, a cultural tour is a great way to learn about the island. The heart of the city has over 500 years of history to uncover. Old Havana is the perfect location to take a walking tour.
Declared a UNESCO World Heritage site, Old Havana shows off its colorful architecture, authentic food, and lively music. When booking your tour, check that it supports local and private businesses.
3. Ride the Hop On Hop Off Havana Bus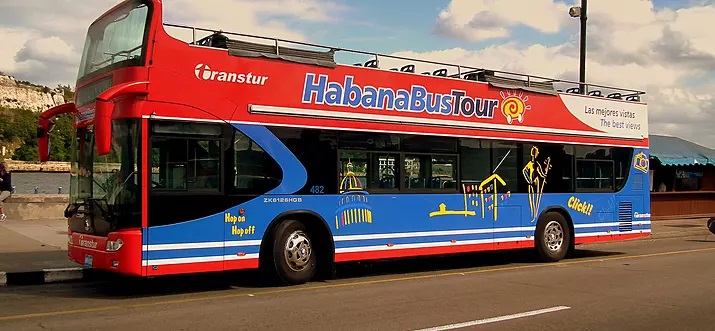 Double-decker buses are a great way to see the city. Like New York and London, Havana has double-decker buses known as the "Hop On, Hop Off" bus. There are two routes many tourists enjoy taking on the Havana Bus Tour.
One tour will take you and the family to see Vedado, Miramar, and Centro Habana (Central Havana). Centro Habana is home to notable museums and buildings like the Great Theatre of Havana and Callejon de Hamel – which showcases Afro-Cuban culture. The second bus tour offers a scenic route that includes the sandy beaches of Playas del Este.
4. Make it a Beach Day
Just east of Havana, Playas del Estes is a day trip destination for the family's beach day. Playas del Estes is a collection of several beaches. For tourists, visit Santa Maria or Marazul for beaches near Havana.
Known as one of the best beaches in Cuba, Varadero is an hour from Havana. Let the kids enjoy the beautiful white sand beaches and crystal blue waters. A third option is far from Havana – Playa Ancon beach in Trinidad, Cuba. A quiet white sand beach located about 4 hours from Havana.
5. Ride the Vintage Cars
The classic vintage cars are a must-see. Find a private tour that will drive you around Havana in style. Classic cars like Cadillac, Chevrolet, and Ford are 50-plus years old and a big tourist attraction.
Booking a short tour and riding in classic cars is the perfect way to see the highlights of Havana. The colorful array of cars makes a great backdrop for making memories with the family in Cuba!
Plan Your Havana Family Vacation
The great thing about Havana is that you can do these activities year around. With Cuba having two weather seasons, dry and wet, there isn't a bad time to visit this island.
Just don't wait too long to plan your vacation. To ensure you can book all these activities and plan out a fun-filled trip, make sure to plan well in advance.