Summer has gone, but travel is always in season. You may want to take a quick trip but are not sure exactly where to go. We have compiled our 7 best fall vacation destinations for any type of trip. Whether you want to embrace the cooler fall weather or catch some beach waves, these destinations will have you ready to pack your bags!
1. Asheville, North Carolina
Fall foliage is everything! If you haven't been to Asheville, North Carolina, it's an excellent choice for nature lovers. If you're opting for a road trip, the drive down Blue Ridge Parkway is a great way to see the most dramatic fall foliage displays.
Take the Blue Ridge Parkway to hiking trails to soak up some Carolina nature. Whether you're looking for a more strenuous hike or something lighter, choose from several paths that will still let you enjoy the beautiful autumn weather.
Add notable sites like George Vanderbilt's 8,000-acre Biltmore Estate. The perfect option for a day trip or book an overnight getaway. This private estate has options for overnight stays, hikes, tours of the enormous mansion, horse & carriage rides, and much more.
2. Las Vegas, Nevada
Las Vegas makes our list for a few reasons. The usual scorching hot temperatures are cooling. Now you'll be able to enjoy the outdoor scene – from shopping to simply walking the Strip – without the risk of overheating.
Vegas is known for entertainment, including entertainment for the whole family. A stay at Circus Circus Hotel places you at Adventuredome. This indoor amusement park spans 5 acres, big enough for an all-day adventure!
Circus Circus isn't the only hotel with unique attractions. Hotels are home to amazing live shows from Cirque de Soleil to residencies from mega-stars like Usher. Make dinner reservations at one of the many 5-star restaurants before catching one of these legendary shows.
3. Nassau, Bahamas
Taking in the fall foliage is nice, but sometimes a beach is preferred. The Bahamas gives you blue seas and white sands. Late October into November is an ideal time to visit since it is just after hurricane season ends.
Fly into Nassau, the capital of the Bahamas, and dive first into the culture. Nassau is the largest city in the Bahamas. Nassau has beach adventures and more. From enjoying delicious local foods to fun beach activities, a trip to the Bahamas is just what you need to reset before the holiday season goes into full swing.
You can plan a baecation or girls' trip with so many luxury hotels and resorts—book one of many activities from snorkeling to touring the islands on ATVs.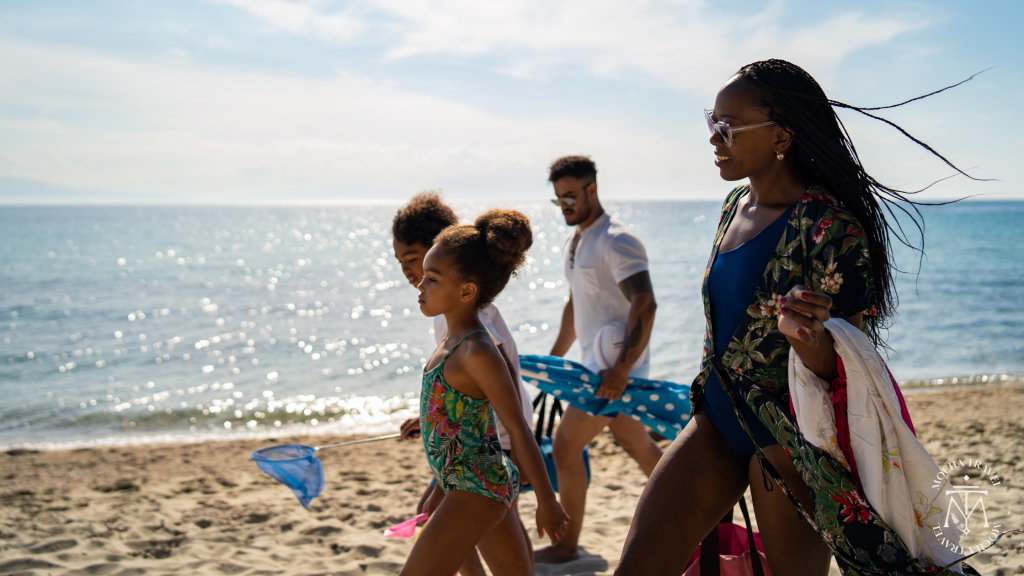 4. Maui, Hawaii
Always a beautiful getaway, the beautiful beaches of Maui makes our list of best fall vacation destinations for several reasons. With nonstop flights from Atlanta, Detroit, and New York recently added by Delta Airlines, it's now easier to fly directly to Hawaii.
Make it a sustainable trip to Hawaii to show support for the local community. With so many activities for the water sports enthusiast, sustainable tours are just as accessible to book and include activities for all ages. Go whale watching, kayaking, or other paddle sports, and enjoy the ocean with the mountains as your backdrop.
5. New York City
The summer heat finally cools off, making NYC a good fall destination. A great option for a weekend getaway, NYC is packed with something for any trip. There are some seasonal activities to add to the itinerary.
Plan to visit the Hudson Valley and check out the Great Jack O'Lantern Blaze to see 7,000 illuminated pumpkins that are hand carved and have synchronized lighting. This Halloween event is one of a kind that all ages can enjoy. There are several other activities, from Broadway shows to appreciating the gorgeous skyline views from famous observation decks like Summit One Vanderbilt.
6. Greenville, South Carolina
Greenville is another southern gem that joins our list of best fall vacation destinations. This South Carolina city has the ideal fall activities to enjoy. Enjoy their festival season, "Boo in the Zoo" at Greenville Zoo, and other fun things for the family.
You can enjoy nature and take in the fall foliage. Book your Airbnb in Paris Mountain State Park. Enjoy a relaxing weekend in the heart of the mountains and see the sunrise. Book a cabin near the city and enjoy exploring.
7. Poconos, Pennsylvania
The crisp fall air and autumn hues make the Poconos an ideal destination. Located in the northeastern region of Pennsylvania, take a trip to the Poconos, where you can embrace the season's change. Try reserving an Airbnb cabin to immerse yourself in nature.
Or you can book a stay at a resort spa and make it a mountain retreat. Spa retreats are perfect for solo trips, girls' trips, or even a way to reconnect during a mother-daughter trip. If you plan to make it a family trip with the kids, plan to go camping or even try train tours to see fall foliage as you ride by.
Add a quick fall getaway to your travel plans. Whether you're looking to take in beautiful fall leaves or layout on the beach, there's still time to book the best fall vacation!