Skip the busy airport lobby and have your family retreat to a private airport lounge. Lounges aren't exclusive to business and first-class travelers. Many airport lounges are kid friendly. So now, parents can enjoy all the perks with access to these lounges.
Start your vacation by visiting some of the best airport lounges for kids listed below.
Emirates Lounge at Dubai International Airport
At the top of our list are Emirates Business and First-Class Lounges at Dubai International Airport. These are the largest airport lounges in the world. With a total of 7 lounges, we're highlighting 2 of them – the Business Class lounge in Concourse B and the First-Class lounge in Concourse A.
Emirates Business Lounge is the 2nd largest airport lounge in Dubai. Walking through this lounge, you'll find enough space for the family to spread out and relax between flights. 
Each lounge has options for different buffets serving Middle Eastern, Western, and Asian-style meals. The "Health Hubs" are a delicious option for those with dietary restrictions. These hubs located at the either end of the lounge offers fresh fruits and infused water.  The menu is subject to change. In Concourse B, stop by the Moet & Chandon Champagne lounge and taste samples.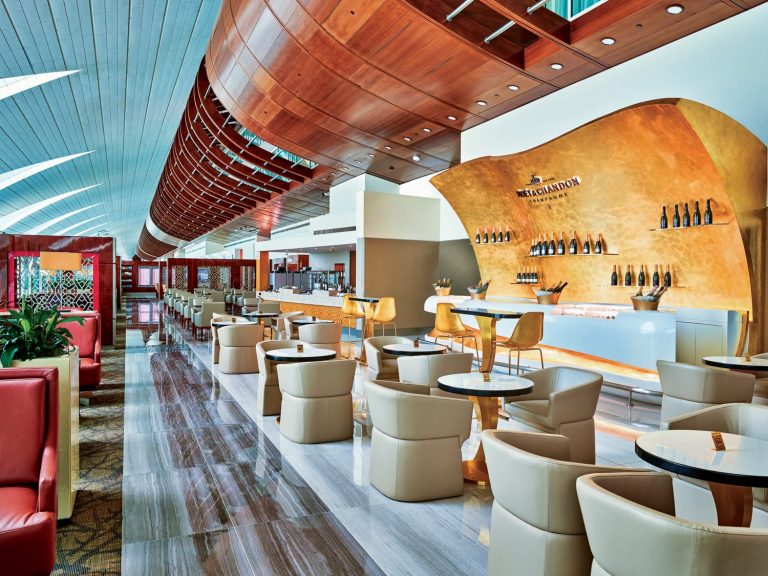 Each lounge does have a designated area for kids. They can enjoy video games and toys – all in a bright space with soft floors. It's the perfect space for the little ones to tire out!
Enjoy these lounges if you are flying first or business class. Gold and Platinum Skywards members also have access to the airport lounges. You can also pay to access the lounge, be sure to check pricing before in case of any changes.
American Express Centurion Lounge at Las Vegas International Airport
American Express Centurion lounges are some of the most well-decorated and accommodating airport lounges. The Centurion at Last Vegas International Airport is located near the D gates, easily accessible from the terminals via the airport's transit system. Children under 2 are free of charge, and those ages 2 to 17 are $30 each
With its seasonally inspired menu and spacious layout, the Centurion is an excellent choice to re-energize before your next flight. Kids can enjoy the multipurpose room while you grab a cocktail at the bar or relax on one of the many comfortable lounge seats.
There is no additional charge for eligible American Express cardholders. You can bring up to 2 guests or immediate family complimentary. Check their site for guest pricing and a list of all Centurion locations worldwide.
Etihad Lounge at Abu Dhabi International Airport
Etihad Airlines makes its young travelers feel welcomed in their Business Class Lounge. This lounge is the perfect place to refresh midway through the trip. Some of the Etihad Business Class Lounge amenities are:
Six Senses Spa
Shower Room
Buffet
Fitness Room
Business Center
Residence Lounge
The family room has kid-size tables and chairs designed with bright, cheery colors. Kids can enjoy tv, toys, and books in a safe space.
If you have an Etihad membership, you can access the lounge for free (depending on your tier status). Or you can purchase a pass, and prices vary. Children under five can use the lounge at no additional cost.
Delta Sky Lounge at LaGuardia International Airport
Set to be completed in 2024, the Delta Sky Lounge at LGA is open. The reimagined LaGuardia International Airport lounge is an experience your family will appreciate.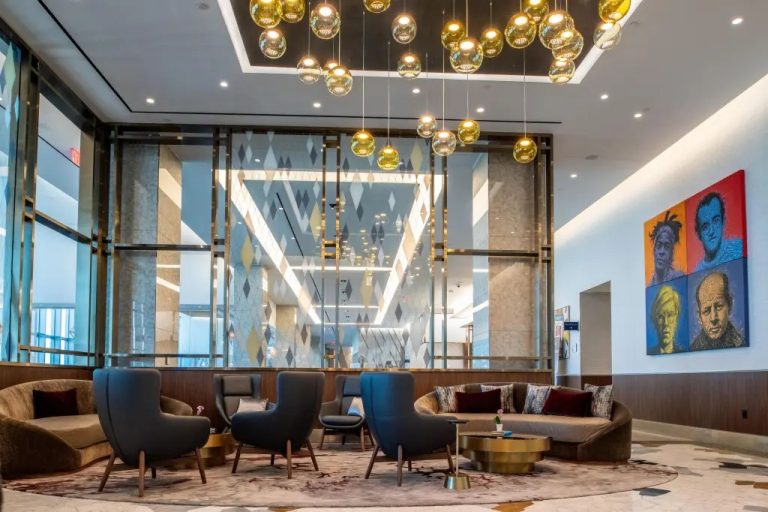 The Sky Lounge has a gourmet kitchen with 2 buffets serving hot and cold items. The adults can sip on seasonal cocktails from the premium bar. The kids can quench their thirst at one of the hydration stations.
Watch planes from their Sky Deck while the kids are munching away and you're sipping your favorite cocktail. With comfortable seating throughout the space near charging ports and free wi-fi, everyone can recharge during layovers. The floor-to-ceiling windows and high ceilings make the area feel more open.
To access any Delta Sky Lounge, use your membership, Delta SkyMiles Reserve American Express Card, or Priority Pass.
Priority Pass VIP Lounge at Punta Cana International Airport
This one is an airport lounge that is like none other. A central Caribbean hub, the Punta Cana International Airport lets you indulge in luxury one more time before flying home. Take a dip in the infinity pool with views of the runway. The VIP lounge is accessible to Priority Pass members and their guests.
You can find this airport lounge in Terminal B, available to those flying out of this terminal. In addition to the pool, this Priority Pass lounge offers a buffet with hot and cold items, a complimentary bar, and plenty of comfortable seating so you can stretch out before you fly.
Passes may be purchased to access the lounge and all its amenities. Priority Pass members will only show their membership to enter. Priority Pass has partnered with credit card companies such as Chase Sapphire, extending membership benefits to those card holders.
How to Access the Best Airport Lounges
There are many ways you can enjoy airport lounges. The most common is using airline credit cards. From Delta to Emirate, these airlines have been offering perks for using their credit cards for years.
Credit card companies offer some pretty enticing travel rewards and access to some of the best airport lounges worldwide, like the Platinum American Express card giving you access to all Centurion Lounges or Chase Sapphire credit cards providing access to Priority Pass lounges.
There is also the option to purchase a membership. Join Priority Pass and access over 1,300 lounges, both international and domestic. Don't factor out day passes. Most airport lounges offer this if they are not at capacity. You can enjoy the amenities, recharge, and continue your travels with the family.